Paslode Nails Guns - The Low Down
Here at AHC Powertools we have a great range of Paslode Nail guns. Have you been looking at them and struggling for which one to purchase? Well we're here to help you out!

Paslode has been one of the premiere manufacturers of fastening solutions and services for over 80 years. Speciality tradesmen and DIYers alike have used Paslode products as they create a professional finish which is reliable.
Difference Between Framing Nailer & Finish Nailer
Firstly before we get started with showing you the Paslode Nail Guns we have in our shop, we'd like to let you kn ow the difference between the two styles for anyone who may be confused.
A framing nail gun is used to fix heavy-duty nails into wooden framework and structures where a strong and stable connection is required. This includes could include jobs such as roofing, fencing, joist work, and decking. A framing nailer is a much better alternative to a hammer as it's quicker and less fatiguing, especially on more large scale projects. A framing nailer is generally referred to as a first fix nailer.
A finish nailer on the other hand is used to fix shorter, slimmer nails into wooden trim such as door stops, tongue & groove panelling, architraves, window casing, skirting boards, MDF fixing, and beading. This is often generally referred to as second fix.
IM360Ci Lithium Gas 90mm 1st Fix Framing Nail Gun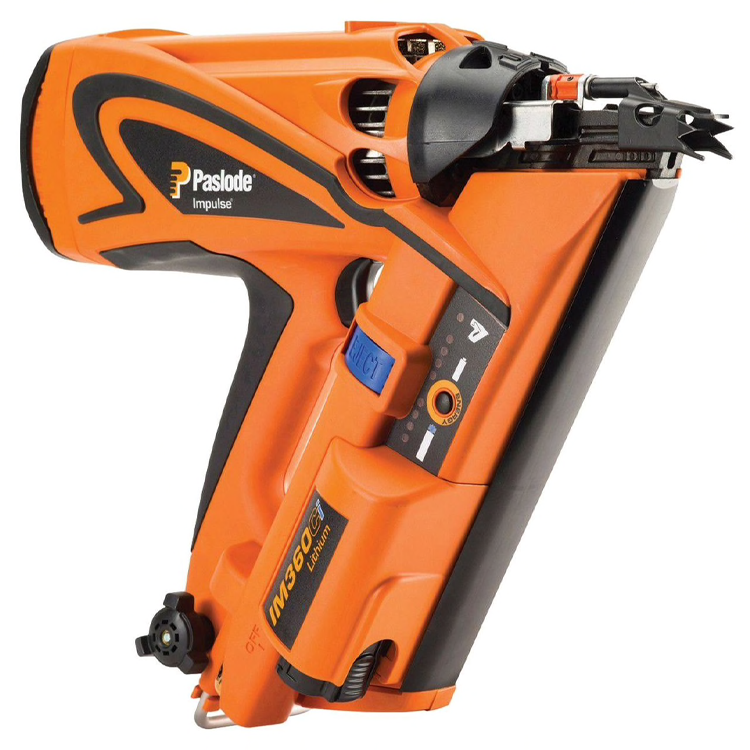 The IM360Ci is the daddy of the Nail Gun world. It is Paslode's most advanced nail gun boasting features some genuinely impressive features.

One of the key features of the IM360Ci model is the Start & Go technology. The innovative movement censor means that the battery doesn't discharge when not in use, allowing you 25% longer use compared to standard Nail Guns.
With 105 joules, the IM360Ci provides the best power to weight ratio tool on the market. It fires to 7,500 shots per full charge (1 hour); 6,000 shots in just 30 minutes; 200 shots in just 2 minutes, even on the move. This combination results in minimal user fatigue allowing you to work for longer.
The IM360Ci also features a more aggressive probe, meaning that struggling to get into awkward angles and tighter spaces can be a thing of the past.
Need some specs?

Dimensions: 381 x 328 x 127mm
Nail Range: 50 - 90mmPower: 105J
Cycle Rate: 2 - 3 nails / SecondMax.
Cycle Rate: 1000 nails / hour 4000 nails / day
Capacity: Sandard: 47 nails Long: 85 nails
Fuel Cell Life: Approx 1,250 shots at -5°c
Battery Lithium (1.25 Ah): Approx 4000
Charger 230V: 1 hour max charge
Weight: 3.8kg
Interested? View the IM360Ci on our store here.
IM350+ Lithium Gas 90mm 1st Fix Framing Nail Gun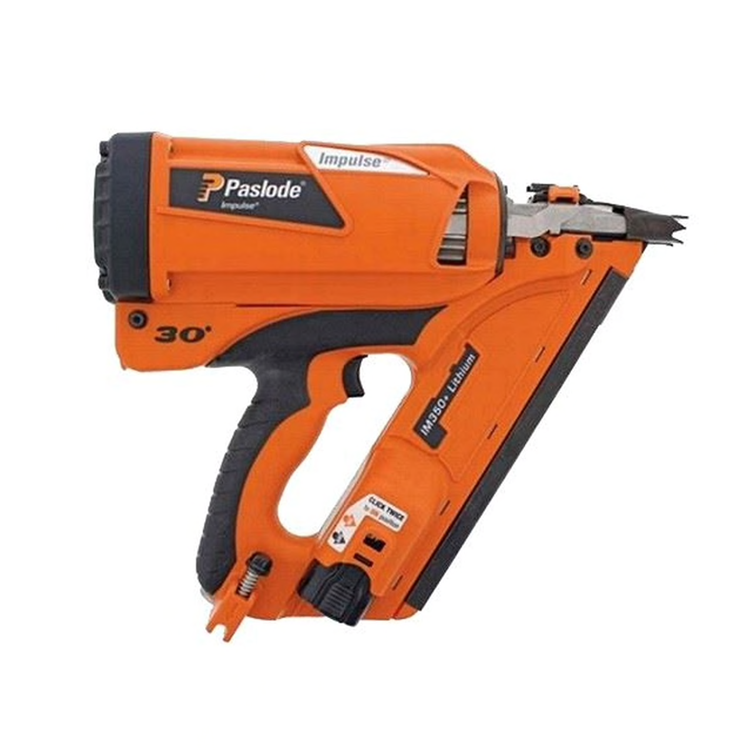 What can we say about the IM350+? Well for starters it's the perfect all-rounder nail gun. The original IM350 was the flagship product for Paslode for over 30 years, and this IM350+ model brings that great technology with added features.

It has applications for a whole manner of work such as cladding, stud work, roofing, decking and fencing to literally just name a few. Due to the design, it offers a fantastic weighted balance meaning you can work much longer without fatigue, meaning work can be done quicker which is always a good thing!
The IM350+ boasts the ability to fire 9000 nails per charge, meaning it really lasts a long time, and even when it does run out of juice, its fully charge in only 90 minutes!
Want to know a bit more of the technical specs?
Product weight with battery: 3.3kg
Dimensions: 370 x 305 x 110mm
Nail Range: 51 - 90mm
Impact Force: 82J
Max cycle rate per sec (fixings): 2 - 3
Max. cycle rate per hour (fixings): 1,000
Magazine capcity: 55 nails (1 strip)
Fuel Cell Capacity: 1,100 shots
Fixings per battery charge: 9,000
Battery Type: Li-ion+
Battery charge time: 90 mins
Noise Emission (BS EN 12549)
Sound Power Level LwA 1s 1m: 89dB(A)
Sound Pressure Level LpCpeak: <130dB(A)
Vibration (EN ISO 8662-11) HAV: 2.6 m/s²
Looking to purchase? View it on our store here.
IM65 F16 Lithium Gas 2nd Fix Brad Finishing Nail Gun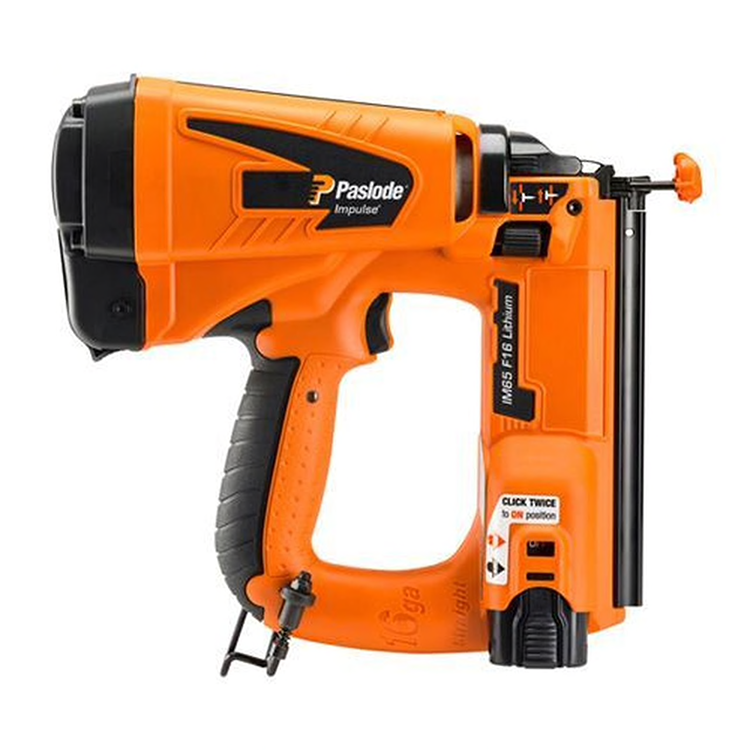 The Paslode IM65 Lithium cordless gas straight brad nailer is the professional's tool of choice.
The IM65 Lithium gas straight brad nailer is ideal for door stops, tongue & groove panelling, architraves, window casing, skirting boards, MDF fixing, beading and a host of other applications.
The smallest of the Nail Guns we offer by Paslode at 2.1kg, the IM65 features improved weight & balance allowing any user to manoeuvre into tight spaces, working all day long without fatigue ideal for use on site, whilst the reversible belt hook, ergonomic soft grip handle and soft trigger provides maximum comfort providing greater tool control.

Powered by a linear internal combustion motor, It features an easy loading rear load magazine, holding two nails strips of 100 brads each, tool free drive depth adjustment providing precise control of depth, Nail Lockout preventing firing of blanks minimising workpiece damage, No-mar contact with sight lines aiding accurate placement, quick clear nose cover allowing easy access in the unlikely event of jamming.
The Spec low down:
16mm - 63mm Nail Capacity
1000 Nails per Hour (Continuous Operation)
1 x 1.25Ah Li-ion Battery
2 Hour Charger
Weight 2.1kg
Carry Case
Why not view the IM65 on our store?

The Comparison
IM350+ Vs IM360Ci
While both of the Paslode First Fix guns would be the perfect tool to add to your selection, it is good to compare the two to make sure you get the best one that fits for your exact needs.
The IM350+ is slightly lighter (0.5kg) than its IM360Ci brother, so if you're looking for a lighter nail gun, the Im350+ would be the perfect choice. The IM350+ also holds more nails in its magazine, however the IM360Ci fires more nails per charge. The IM360Ci fires at a significantly impact force.
Other than points made above, the IM360Ci is basically an upgraded model of the IM350+, offering more power and a greater performance. It's technology out matches most other nails guns on the market.
One thing to potentially consider is the nails which you will be using on the task. IUf you already have IM350 nails, or if you are working on a job site and these are the nails already supplied, these will not work on the IM360Ci and therefore the IM350+ is the nail gun for you.
IM65
There is no better second fix gun on the market. With its light weight design and loading technology, we would thoroughly recommend Paslode's IM65 model.
Not Just Nail Guns
Looking for something a bit more? We don't just sell Nail Guns, why not view our range of Paslode products here? Or looking for something else? We sell an extensive range of cordless and corded power tools plus accessories on our store. Click here to find out more!