Makita's DMR115 Jobsite Radio
Ever been on a job where the hours seem to drag on forever? Well worry no more! Make jobs more entertaining with Makita's DMR115 Job site Radio. Powered by a 14.4V/18V LXT Li- Ion battery and 12Vmax CXT Li-Ion battery as well as an AC adapter. The Makita DMR115 Job Site radio has been redesigned to provide high quality sound.
With two 3" 5W side firing stereo speakers on the left and right, this new design now boasts a high quality 25W subwoofer located at the bottom of the radio for a powerful rich sound. With volumes reaching up to 9dB, you can be sure that you can still enjoy your favourite tunes while using your favourite tools. No matter how noisy they are. The multi amplifier system provides clear hi-fi sounds without a decrease in quality when the volume is turned up to the max.
The Makita DMR115 DAB/DAB+ Job Site Bluetooth Radio features full colour display as well as customisable EQ settings to adjust treble, midrange and bass to your liking. You can also choose between 6 selectable modes based on your genre of choice, with an LED coloured light indicating the selected mode.
Connect your Makita DMR115 Jobsite Radio to your phone, MP3 player or tablet using the built in Bluetooth class 2 connection. Allowing you to stay connected with a range of up to 30 metres. The radio also features both FM and DAB/DAB+ radio stations as well as USB output port for charging your phone and an AUX-IN 3.5mm jack to connect an external audio source if needed.
Surrounded by high grade aluminium die-cast front guards and elastomer bumpers, the Makita DMR115 DAB/DAB+ Job site Radio has an IP65 rating meaning it is completely protected against dust and your workplace spills from all angles. With an incorporated handle which acts as an FM radio antenna at the same time. The Makita DMR115 DAB/DAB+ Jobsite Radio is the must have addition to your tool kit.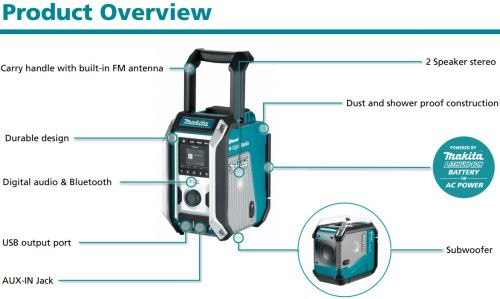 So What Is New?
So how does the Makita DMR115 DAB/DAB+ Jobsite Radio compare to the Makita DMR112 Jobsite Radio?
Though very similar to its predecessor, the real advantage on the DMR115 radio is the additional 25W subwoofer. The subwoofer along with the two 3" 5W side speakers adds a sound quality like no other. It has a IP65 rating compared to an IP64 rating on the DMR112 which better protects the radio from dust and job site spills. The high grade aluminium die-cast front guards in additional to the elastomer bumpers are an added protection. Leaving accidental bumps and falls no longer something to worry about.
The re-designed FM antenna is now built in to the handle making tuning into your favourite FM radio stations easier than ever. Another added bonus is the LED display along with the 6 selectable modes with colour coordinated screen per music genre.
All in all, the Makita DMR115 DAB/DAB+ Job site radio is a must have upgrade from the Makita DMR112 Job site radio. The additional subwoofer speaks for itself and is ideal for those who like a rich powerful sound while on the job. Get your hands on one today buy clicking here - Makita DMR115 DAB/DAB+ Job site Radio
To keep up to date with all the latest news and offers from us here at AHC Powertools, subscribe to our newsletter on our homepage – www.ahcpowertools.com
Follow us on Social Media