Over the past few years, the Grabo Plus vacuum suction cup has emerged as an indispensable tool for trades including tilers, landscapers, builders, and window fitters.
Its ability to effortlessly lift large tiles, concrete, granite, and other heavy construction materials has revolutionized the ease of handling bulky and unwieldy items in the workplace.
Nevertheless, with the advent of the Grabo Pro 300, a digital variant of the popular electric vacuum lifter, users are left wondering which model is more suitable for their needs, and which one offers better value.
In this concise article, we delineate the primary differences between these two models and offer guidance on which one could be the right choice for you.
Grabo Plus 220: Your Ideal Electric Vacuum Suction Cup for Tiles
The Grabo Plus 220 reigns as the top-selling model within the Grabo line. Since its debut, it has swiftly ascended to an indispensable status, finding a place in every professional's toolkit.
Engineered to function on almost any surface, the Grabo Plus 220 boasts an impressive lifting capacity of up to 170kg, simplifying the process of lifting large format tiles and making it faster and safer.
Equipped with an analogue pressure gauge, the Grabo Plus 220 comes with a unique seal that ensures secure attachment to both smooth and coarse surfaces, making it perfect for porcelain tiles and even rough paving slabs.
With a 14.8v battery that delivers 90 minutes of continuous run time and requires just 2 hours for a full charge, the Grabo Plus 220 is a practical and lightweight tool, weighing a mere 1.6kg.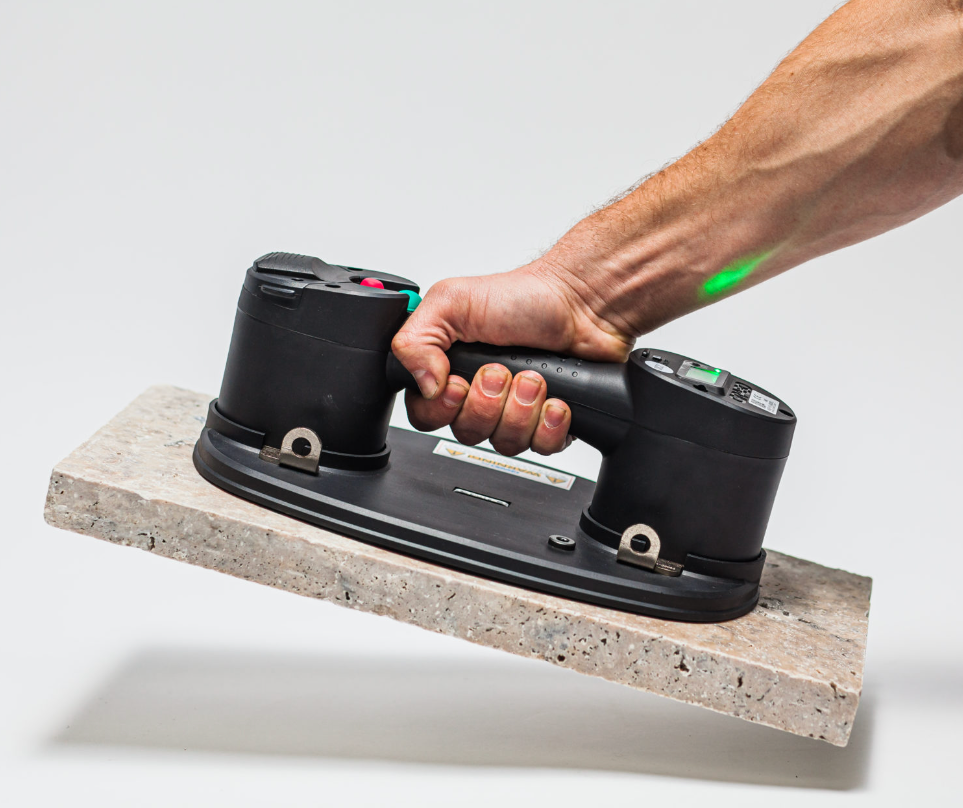 Grabo Pro 300: The Advanced Electric Vacuum Suction Lifter for Tiles
Promoted as the 'enhanced' version of the Grabo Plus 220, the Grabo Pro 300 also offers a maximum lift capacity of 170kg, making it perfect for handling thick porcelain and paving slabs.
The distinct feature of this model is its automatic pressure maintaining function coupled with a smart digital pressure sensor.
The automatic pressure maintaining function prevents the pump from reaching the peak of 11.6 Psi – it intelligently identifies the amount of pressure needed based on the weight of the material being lifted.
Furthermore, the smart digital pressure sensor located on the handle not only detects and maintains the required pressure, but also provides readouts in bars, Psi, lbs, and kgs. This is an advancement over the Grabo Plus 220, which only offers readouts in bars and Psi.
Direct Comparison: Grabo Plus 220 vs Grabo Pro 300
| | | |
| --- | --- | --- |
| Feature | Grabo Plus (Analogue) | Grabo Pro (Digital) |
| Power | 16w | 16w |
| Charge Time | 2 hours | 2 hours |
| Run Time | 90 minutes | 90 minutes |
| Handle size | 45mm | 35mm |
| Dimensions | 297mm x 181mm | 300mm x 184mm |
| Maxx. lifting capacity | 170kg | 170kg |
| Pressure display | Analogue (Bars, Psi) | Digital (Bars, Psi, kg, llbs) |
| Battery | 14.8v Li-ion battery | 14.8v Li-ion battery |
| With automatic OFF switch | No | Yes |
| Max vacuum rate | 11.6 Psi | 11.6 Psi |
| Gauge type | Mechanical | Digital sensor |
| No. of seals included | x1 | x1 |
| Net weight with battery | 1.6kg | 1.5kg |
Deciding Between Grabo Plus 220 and Grabo Pro 300: Which Should You Choose?
If your requirement is a sturdy, dependable vacuum suction lifter that delivers as promised, then the Grabo Plus 220 stands as our top recommendation. It's the highest-selling model in the Grabo line, acclaimed for making heavy lifting a breeze, effortless, and safe.
However, if you're in pursuit of additional features such as a smart sensor and pressure maintaining function, then upgrading to the Grabo Pro 300 would be an excellent choice. This model also brings you the advantage of a digital display with selectable units (bars, Psi, lbs, kgs), a slimmer handle, and a marginally more lightweight design.
You can explore the complete Grabo product line, inclusive of twin packs and accessories, now available for purchase online at ahcpowertools.com.