DeWalt? Makita? Bosch? Have a favourite? These 3 brands rule the power tool market but come from different backgrounds giving them strengths and weaknesses in different areas.
DeWalt started as a powertool company in the USA in the early 1900's when Raymond E. DeWalt created the first radial saw as a way to ease labour at the woodworking mill where he worked at the time. This was called the Wonder Worker and led to the creation of DeWalt power tools.
Makita was founded over 100 years ago in Japan as an electric motor sales and repair company. In the late 1950's they released their first power tool, the Makita planer and then in the late 70's, their first cordless drill. Since 2015, Makita have been an industry leader in high performing, durable tools. The planer they started out with, is still one of their best sellers today (albeit, with a couple enhancements).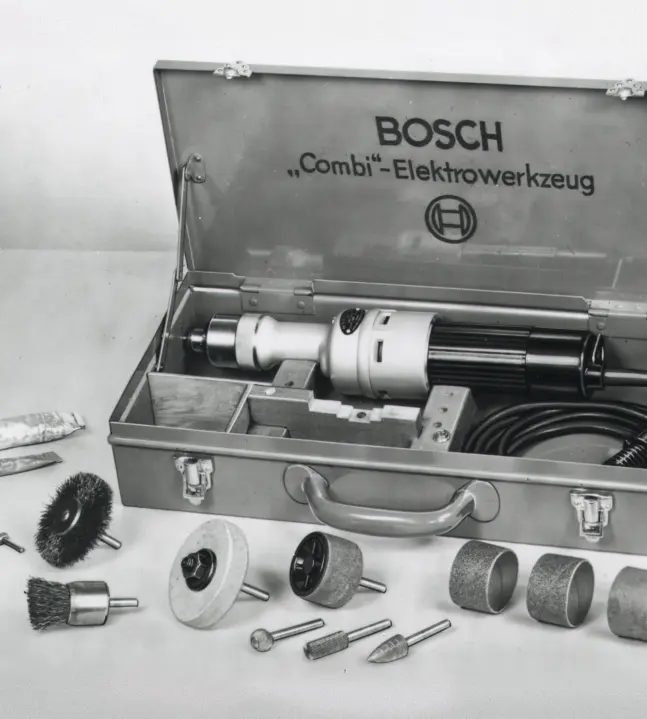 Bosch power tools also came from the automobile, mechanical engineering industries but in Germany. The tool side of the company was an industry leader, being the first to release cordless power tools on the market with the Bosch hedge cutter and cordless drill that came with a battery to sling over your shoulder. Their next milestone was the creation of the first hammer drill, somewhat recognizable today, the Bosch GBH 24V.
---
Looking at them today, Bosch, Makita and DeWalt are all brands that have a lot to offer. Sometimes it's hard to know if DeWalt is better than Makita, or if Bosch beats them both! A cordless twin kit is something everybody needs, right? Even if you don't buy a combi drill and impact driver together as a kit, if you're into your tools you're going to have a cordless combi drill and an impact driver... maybe even some batteries and a charger. So lets see how these 3 stack up with a comparison of one of the most essential kits you could get:
Comes With:
- GSB 18V-55 Combi Drill
- GDX 18V-200 Impact Wrench
- 2 x 4Ah batteries
- Charger
- L-BOXX Case
The Bosch GSB 18V-55 combi drill is a solid option, featuring a metal gear box, compact design for those hard to reach spaces, and a light positioned at the bottom instead of the top so the shadow isn't as large. It offers 55 Nm max torque in hard applications, 28 in soft, and 20 variable torque settings plus a drill mode. It also has a no-load speed of up to 1800 RPM. The cordless impact driver in this set, the GDX 18V-200 is a hybrid impact wrench and driver giving you even more flexibility. It offers a max torque of 200 Nm and a no load speed of 3400 RPM. Both of these feature a compact design and high performance. The Bosch cordless twin pack will only set you back £274.95. And at the moment is a part of the Bosch Pro Deal meaning, if you purchase it before the end of August, you'll get a third battery free!
Comes With:
- DCD796 Hammer Drill Driver
- DCF887 Impact Driver
- 2 x 5Ah Batteries
- Charger
- TSTAK Case
This DeWalt brushless combi drill features an all metal chuck as well, 2 speed modes, 13 torque settings, and a hammer mode. It has 70 Nm max torque in hard settings, 27 in soft, and a 2000 RPM no-load speed, making it a fair bit more powerful than the Bosch option. The light on this drill has 3 settings, one of them bright enough to act as a torch for about 20 minutes. The impact driver also has LED illumination around the chuck and has 3 modes of operation giving you up to 205 Nm of torque and a no-load speed of up to 3250 RPM. The 5 Ah batteries included in the kit offer a great runtime and the case is a DeWalt TSTAK case meaning it's highly durable, waterproof, and stackable with other TSTAK cases. This DeWalt brushless twin kit runs at £264.95 making it great value for everything included.
Comes With:
- DHP484 Combi Drill
- DTD153 Impact Driver
- 2 x 5Ah Batteries
- Charger
- Makpac 3 Case
The Makita DHP484 combi drill is a well balanced drill offering 54 Nm of torque (hard applications) with not much kickback making it ideal for wood applications. While it has less torque than the DeWalt drill, it's in a more compact package so it might be a bit easier to control but still has a no-load speed of 2000 RPM. The DTD153 impact driver features a max torque of 178 Nm and a no-load speed of 3400 RPM. While this isn't as much as the other two, it is a very compact tool, with a soft start and is ideal for all different applications, whether you need to be more gentle, or more power is needed. This high quality Makita drill and driver set costs £299.95, one of the more expensive options, but well worth the money for the quality and performance of the contents.
Makita, Bosch or DeWalt?
Although you can't go wrong with any of these options, they each have their strengths. If you want more power, you can't go wrong with the DeWalt cordless kit. For a well balanced, high quality tool that can stand up to tough jobs but is still gentle enough for delicate applications, the Makita combi drill impact driver kit stands out. And for a reliable, all around kit, the Bosch brushless twin pack is ideal for DIYers with a variety of applications.
Have a favourite? We want to know!