What's the big deal about X-LOCK? How much of a difference can it really make...?
X-LOCK is the newest accessory changing technology from Bosch. Bosch has been leading the way in accessory changing for a while from SDS to Starlock and now X-LOCK. X-LOCK has been popping up more and more on the market since Bosch released it as can be used across manufacturers with Makita being one of the first to use it on a grinder.
Essentially X-LOCK acts as a way to idiot-proof grinders. The X-shaped face of the grinder's head and on the accessory allow you to easily mount the accessory to the grinder without the need for a key. All you have to do is press the disc in until you hear a 'click' and then release by pulling a lever. This makes changing accessories 5x faster than the standard technology.
Convenience of an effortless mount not important to you? X-LOCK also has a host of safety features (butterfingers this one's for you). Because of the form, directional accessories can't be incorrectly mounted and this keyless solution also means no losable parts.
Still not convinced it's a game-changer? Last but not least, this new technology allows for flat grinding meaning no rework would be needed.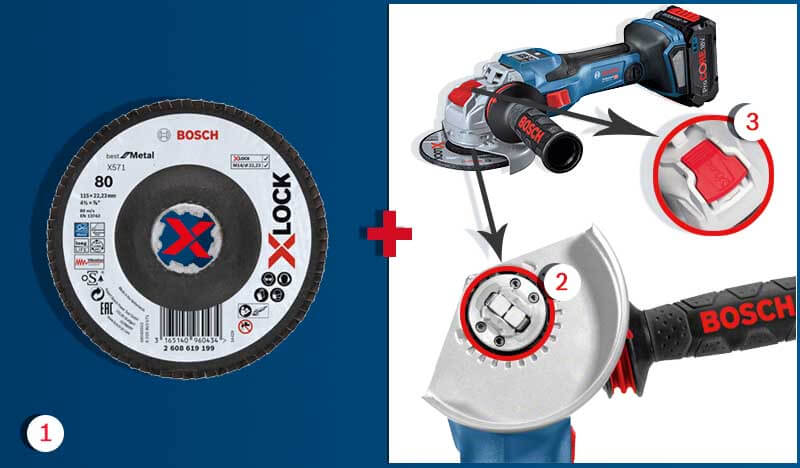 Worried about compatibility? X-LOCK fits all. Almost all X-LOCK accessories, over 130 to choose from, fit standard angle grinders. Accessories are backward compatible standard with non-X-LOCK angle grinders (non backward compatible X-LOCK accessories include backing pads, brushes and diamond drills).
X-LOCK angle grinders are available in cordless or corded options. These grinders are only compatible with X-LOCK accessories, so you cannot use standard grinding discs with them. Give one a shot today and let us know what you think!