What Is The Best Job Site Radio?
Everyone knows that popping on some tunes is the best way to speed up the workday, especially when you're working long days on-site. Finding something everyone likes can be a pain, but what about choosing the right way to listen? There are heaps of ways to listen to your favourite tracks while you're on the worksite, but none are as tried and tested as a sturdy dab work radio.
Specially designed to withstand tough conditions you can listen no matter what's going on. There are tons of different radios on the market, so in this blog, we're taking a look at some of our favourites. We've even got a handy summer playlist everyone on-site can jam to, so stay tuned!
Makita DMR110 18v DAB/DAB+ Jobsite Radio
This Makita 18v radio is a seriously robust radio, ideal for demanding worksites. It's protected against environmental factors and bumps as it's IP64 rated against dust and water damage and fitted out with metal pipes and plastic elastomer bumpers. Not just tough, you can enjoy brilliant sound quality with the two-speaker stereo system and clarity from the LCD display.
Features:
Includes an AUX-in jack and a micro USB port
Two power sources, AC or Makita batteries
Compatible with all Makita 7.2v Li-ion, CXT, and LXT batteries
AC adaptor jack
Runs up to 33 hours with an 18v LXT Li-ion 6.0Ah battery
Flexible antenna
Capable of receiving DAB/DAB+
DeWalt DCR020 XR Compact Jobsite Radio
This DeWalt 18v radio is a compact FM/AM option that's perfect for carrying around on-site, so you can enjoy your music no matter where you're working. It's compatible not only with 18v but also accepts 10.8v and 14.4v batteries. This radio comes with a comfortable handle, so it's super easy to cart around. The LCD display also helps make this system easier to use, while the integral roll cage gives impact resistance that maximises durability.
Features:
3.5mm auxiliary port allows you to connect to portable audio devices
USB charging port
Memory storage for 10 FM and 5 AM presets
LCD backlit screen display
1.8m power cord with wrap-around cord storage
Makita DMR115 10.8/ 18 CXT/LXT Bluetooth & DAB+ Digital Job Site Radio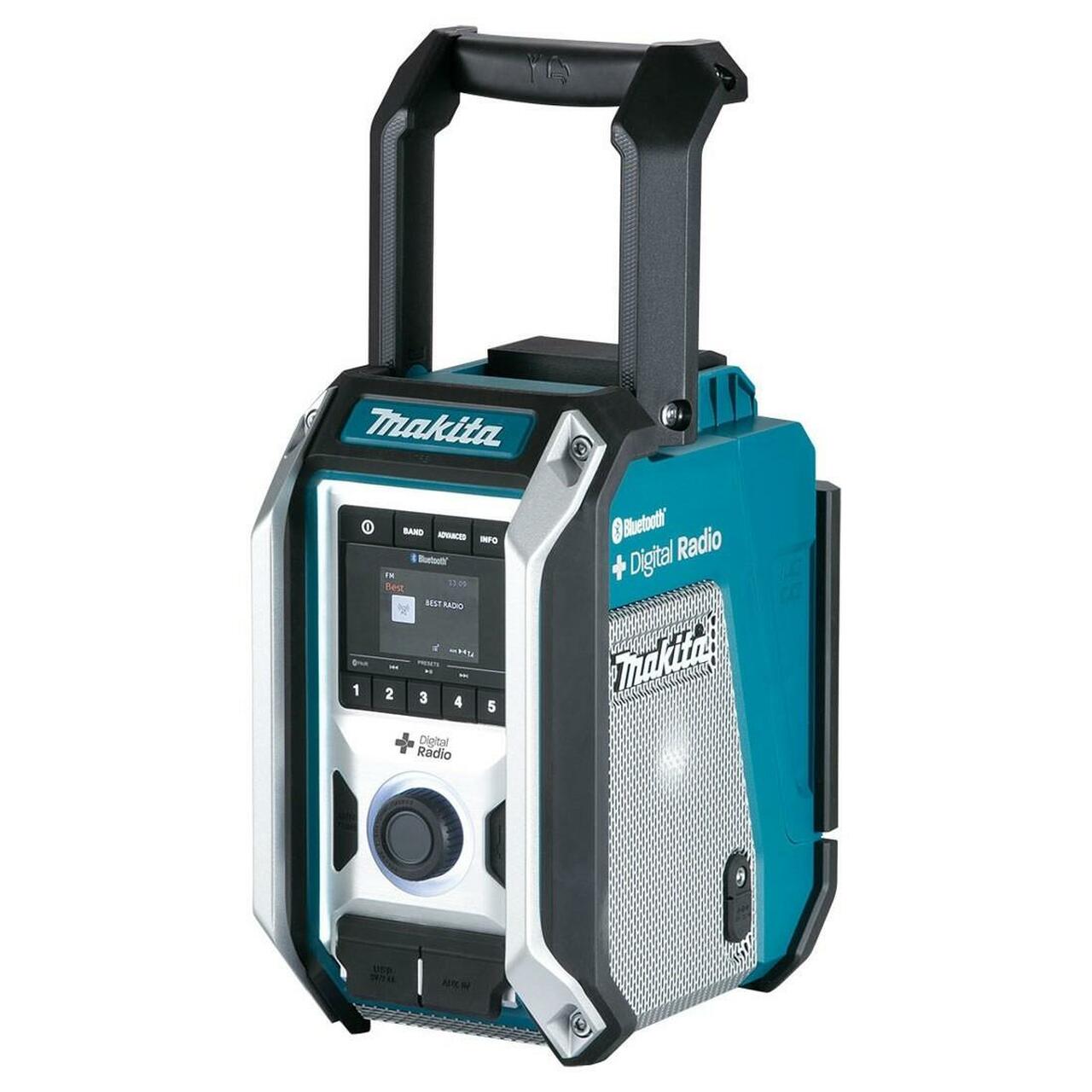 This Makita DAB radio with Bluetooth is packed full of amazing features that make this one of the best radios on the market. Developed to include both Bluetooth and Digital DAB radio, the Makita DMR115 can be powered by 12v and 18v batteries. With a dual power source by either an AC adaptor or by the Makita CXT and LXT lithium-ion batteries, you can enjoy great convenience.
Features:
Flat top surface for mobile devices
USB output port lets you charge your devices
Two 3" 5W side-firing stereo speakers for great sound quality
Aerial integrated into the radio handle
Colour Display
Dustproof and water-resistant
Makita DMR109 10.8v CXT Job Site Radio Bare Unit
The cheapest Makita radio of the bunch, this cost-effective option can pick up DAB and DAB+ broadcasting and is newly compatible with 10.8v CXT slide batteries. This radio also features a dual power source, with the option of both AC or Makita batteries. Similarly to the DMR110, the DMR109 offers users sturdiness with elastomer bumpers that protect against any rough handling.
The DMR109 is also available in an (in our humble opinion!) snazzier white colour. With the same price point and specs, the DMR109W is a cool twist on the typical Makita blue.
Features:
AC adaptor jack
IP64 rated dust and water-resistant construction
Easy to read LCD display
Soft grip handle with 90-degree swivel
A flexible antenna that can be removed
2 speaker stereo system
Aux-in jack for connecting to an external audio source
Micro USB for software upgrades
What Jobsite Radio Should I Buy?
All of these radios offer different benefits, so in the end, it really depends on what you value most! If you want an incredibly sturdy radio that can run for an incredible amount of time, then the Makita DMR110 18v DAB/DAB+ jobsite radio is ideal for you. If you want a radio that's compact and comfortable to carry across site then the DeWalt DCR020 is just what you're after. Bluetooth capability might be your thing, and if so the Makita DMR115 deserves a place on your worksite. If affordability is your main priority, the Makita DMR109 and its white counterpart are brilliantly cost-effective.
Crank The Tunes With Our AHC Spotify Playlist
Once you've landed on the radio that's right for you, all you have to do is find a playlist that the whole team can enjoy. Luckily for you, we've taken all the struggle out of it. Check out our summer playlist over on Spotify for worksite tunes everyone will love.